Here is an overview of books about Robert's work or books by Robert himself. We're constantly improving and extending this page, please also click here to see his books in our AStore.
Roadracers – The Making of a Degenerate Hot Rod Flick
This is a quasi sequel to Robert's Rebel Without a Crew book, centering around the making of Roadracers, which to date is only available on DVD in Australia. There have been speculations as to the DVD release of this movie, but so far nothing has happened. Unfortunately this book is very rare, and that is also why we cannot post a review of it at the moment. If you own this book or you have read it, please send your comments.
Details: Year, Pages, Publisher, Format, etc coming soon
This book is long out of print and only available used, try to buy From Amazon.com | From Amazon.co.uk | From Amazon.de | Amazon.es | Amazon.it
Rebel Without a Crew – Or How a 23-Year-Old Filmmaker With $7,000 Became a Hollywood Player
This is a must read for all fans. In order to understand Robert Rodriguez and his way of film-making, follow him on his journey through medical experiments and guerilla production and learn how he acquired the skills to shoot, chop and score amazingly creative films on shoestring budgets. This is the real story behind El Mariachi and Desperado, the story of how Robert broke through and followed his dreams.
Details: Year, Pages, Publisher, Format, etc coming soon
Buy now: From Amazon.com | Amazon.de | Amazon.co.uk | Amazon.fr | Amazon.ca | Amazon.es | Amazon.it
Grindhouse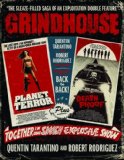 When Grindhouse hit theaters in April 2007, the buzz around the geek world was pretty loud. There was a lot of advertisement hailing it as the ultimate throwback to 70s drive-in flicks and how it was a back to back fun ride by two maverick directors. It failed at the box office, maybe because there wasn't enough marketing that made the subject accessible to non-geeks. Anyhow, this book goes into the making of the movie, the different aspects from the cars to the special effects. It has interviews, the list of all the tracks on the jukebox and much much more. The ultimate guide book to the movie.
Details: 2007, Pages, Publisher, Format, etc coming soon
Buy now: From Amazon.com | Amazon.de | Amazon.co.uk | Amazon.fr | Amazon.ca | Amazon.es | Amazon.it