From Dusk Till Dawn (1996)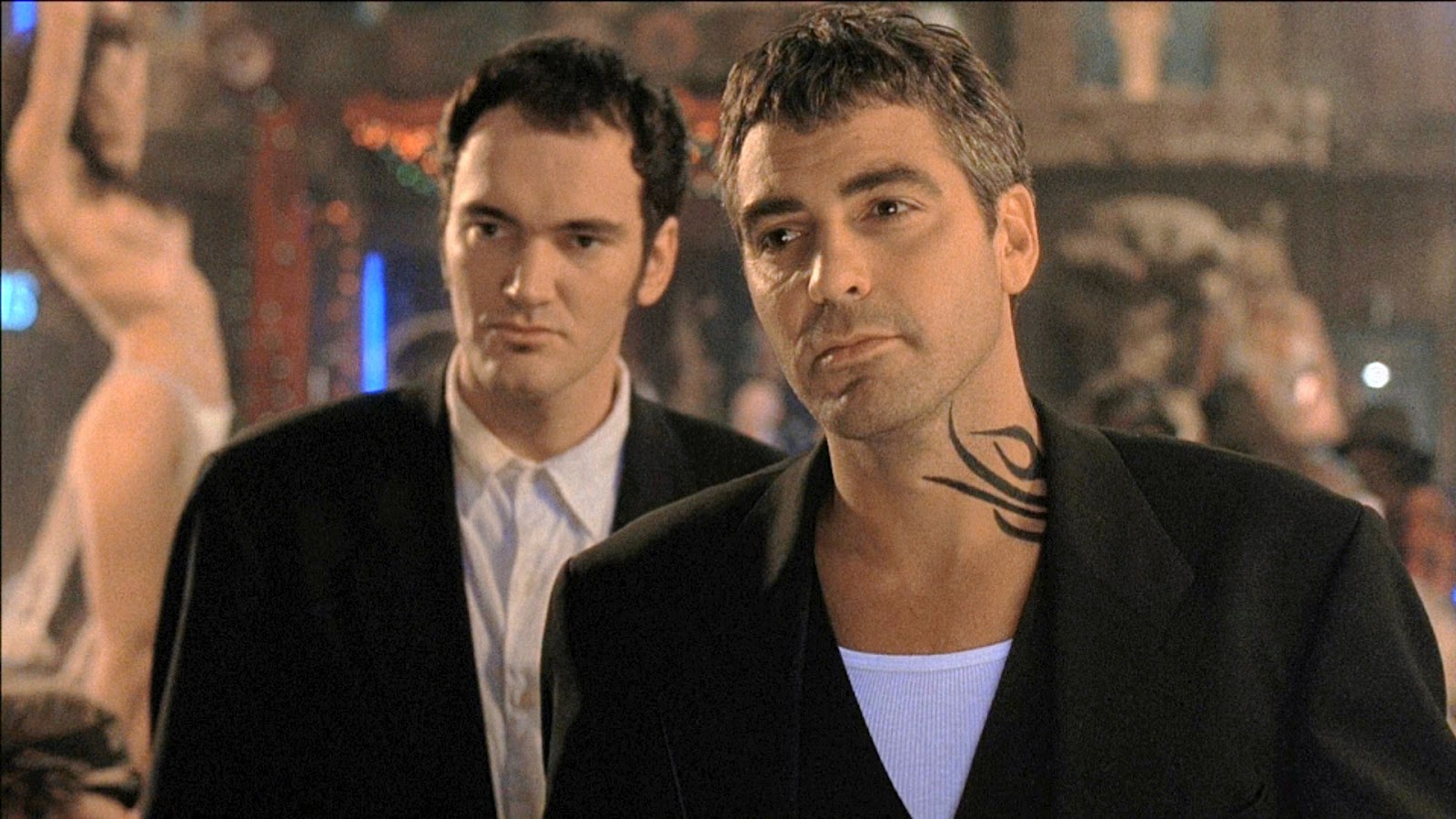 FROM DUSK TILL DAWN (1996 / Director: Robert Rodriguez)

About the movie: From Dusk Till Dawn follows the escape of Seth and Richie Gecko from the police in Texas, where Seth has freed Richie from prison and the two have robbed a bank, taken a teller hostage and killed a lot of people. On the way to Mexico, they blow up a liquor store, and at a motel, take the Fuller family and their motor home hostage for save passage through the border. Tensions rise as Jakob the father, a former priest, and his two children Kate and Scott, have to reluctantly support the gangsters. Once in Mexico they are to spend the night at the Titty Twister, a biker bar and strip club, until the next morning, where the Gecko brothers are to meet with Carlos whom they buy refuge from. It all goes sideways when the doors of the club shut and the strippers turn into blood thirsty vampires….
Cast and crew
Starring George Clooney (Seth Gecko), Quentin Tarantino (Richie Gecko), Juliette Lewis, Harvey Keitel, Tom Savini, Michael Parks, Salma Hayek (Santanico Pandemonium), Danny Trejo, Cheech Marin…
Directed by Robert Rodriguez, written by Quentin Tarantino based on a story by Robert Kurtzman.
Trivia
From Dusk Till Dawn is based on a treatment by Robert Kurtzman, Tarantino wrote a script that his friend Robert directed. George Clooney was still doing E.R. at the time. His tattoo was painted on.
There are three versions of the film in Germany: the uncut original (which is banned there), a slightly cut version (rated 18) and a rated 16 version that misses almost 20 minutes of footage.
Behind the Scenes & Making-of
Watch part of "The Art of making the movie"
Get the BluRay: From Amazon.com (bare bones, with digital HD) / alternative, 4 Film Collection, Double feature with Pt. 2, Canada import, Box with Kill Bill 1&2,  | From Amazon.co.uk | From Amazon.de
Get the DVD: From Amazon.com (bare bones, with digital), 4 Film Collection,  Collector's Edition UK import, Collector's Ed (OOP) | From Amazon.co.uk | From Amazon.de
Get posters: Amazon.com | Amazon.de
Related articles on this website:
The Soundtrack (tbc)
From Dusk Till Dawn: The Series
External links:
The Quentin Tarantino Archives page on From Dusk Till Dawn