Chingon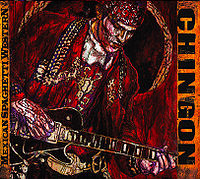 CHINGON is a tex-mex bluesrock band initiated by Robert Rodriguez.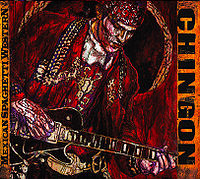 Robert Rodriguez's CHINGON Band is a Mexican-American rock band originally started by Robert Rodriguez to record songs for his 2003 film Once Upon a Time in Mexico. The band features members of the Latin Rock band Del Castillo and Rodriguez on guitar. Chingon released their debut album, Mexican Spaghetti Western, in 2004, and updated the release in 2010.
Chingon also contributed their song "Malagueña Salerosa" to Quentin Tarantino's Kill Bill Vol. 2 – which Rodriguez scored – and a live performance by the band was included on the film's DVD release. They had also contributed to the soundtrack for Planet Terror, and composed and performed the score to the film Machete.
The band's name comes from a Mexican slang term, chingón, meaning "badass."
Album: Mexican Spaghetti Western, 2004 (Buy at: Amazon.com | Amazon.co.uk | Amazon.de | Amazon.fr)