The Faculty (1998)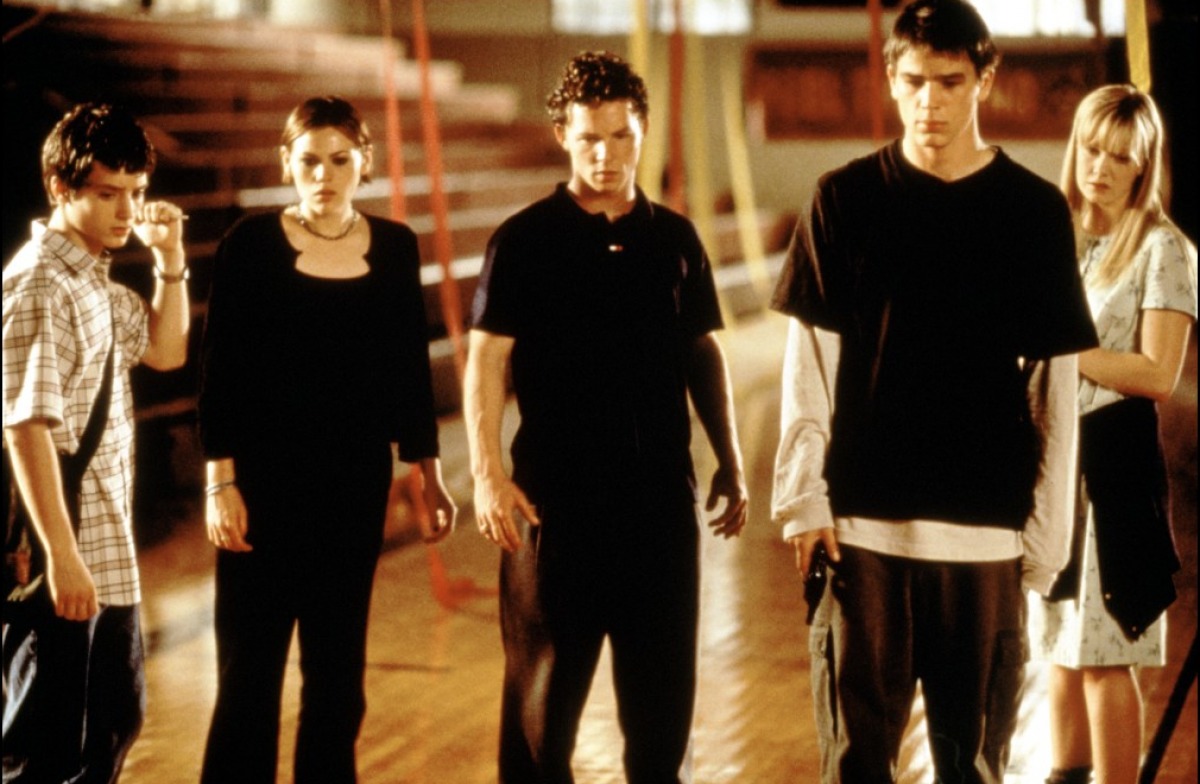 The Faculty is a 1998 science fiction horror. Robert Rodriguez and screenwriter Kevin Williamson teamed up for a high-school alien-horror film that they described as 'The Breakfast Club' meets 'Invasion of the Body Snatchers'.
Director and editor: Robert Rodriguez.
Producers: Elizabeth Avellan, Robert Rodriguez.
Screenwriters: Kevin Williamson, from a story by David Wechter and Bruce Kimmel.
Cinematography: Enrique Chediak, ASC.
Cast: Elijah Wood (as Casey Connor), Jordana Brewster (as Delilah Profitt), Clea DuVall (as Stokely Mitchell), Shawn Hatosy (as Stan Rosado), Laura Harris (as Marybeth Louise Hutchinson), Josh Hartnett (as Zeke Tyler), Famke Janssen (as Miss Burke), Usher Raymond (as Gabe Santora), Salma Hayek (as Nurse Harper), Piper Laurie (as Mrs. Olson), Christopher McDonald (as Mr. Connor), Bebe Neuwirth (as Principal Drake), Robert Patrick (as Coach Willis), Jon Stewart (as Professor Furlong), Daniel von Bargen (as Mr. Tate), Libby Villari (as Casey's mother), Jon Abrahams and Summer Phoenix (as "fuck you" boy and girl), Susan Willis (as Mrs. Brummel), Pete Janssen (as Eddie 'Meat' McIvey), Danny Masterson and Wiley Wiggins (as "fucked-up" kids), Harry Knowles (as Mr. Knowles), Louis Black (as Mr. Louis), Duane Martin and Katherine Willis (as Police Officers).
Get the BluRay: From Amazon.com | From Amazon.co.uk | From Amazon.de
Get the DVD: From Amazon.com | From Amazon.co.uk | From Amazon.de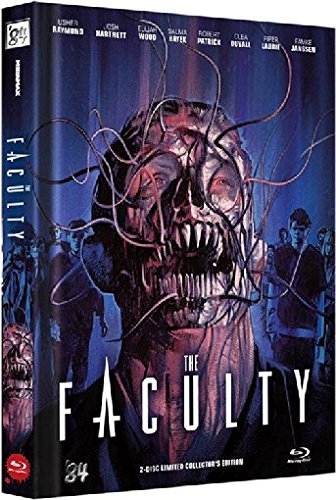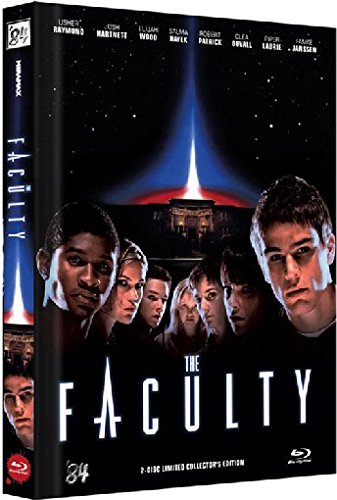 DVD/BluRay Limited Collector's Edition Mediabook (Germany) in two cover variations:
Audio: German, English, French
Subtitles: tbc
Region code: B/2 (tbc)
DVD and BluRay versions of the film
Extras: tbc
Buy from Amazon.de (English-friendly release) | Cover B
---
Synopsis: The story take place in a decayed school called "Herrington High". The school faculty members (Robert Patrick, Bebe Neuwirth, Salma Hayek, and Jon Stewart) are infested with rapidly reproducing space worms that take over their minds and bodies. As mind-controlling parasites rapidly begin spreading from the faculty to the students' bodies, it's ultimately to the few that are left – an unlikely colllection of loners, leaders, nerds and jocks – to save the world from alien domination.
The film takes place in fictional Herrington, Ohio. However the film was shot interely in the State of Texas (Austin, Dallas and Lockhart).
Behind the Scenes
Although the American and European versions of this film didn't get the making-of featurette and  bonus features like the "10 Minute Film School", surprisingly the Brazilian edition came with interviews with Robert Rodriguez and the main actors. Watch here this hard to find video taken from the it:
Here is a Playlist with all the videos:
Soundtrack
Soundtrack: Released on December 8, 1998 by Columbia Records / Sony Picture Music. The score is composed by Marco Beltrami, who had previously scored the teen-slasher-horror film, 'Scream', as well as 'Mimic'. Both Beltrami's score and songs by various artists used in the film were released as albums.
Here is the track listing for the Soundtrack:
1.  "Another Brick in the Wall (Part 2)" – Class of '99
2.  "The Kids Aren't Alright" – The Offspring
3. " I'm Eighteen" – Creed
4.  "Helpless" – D Generation
5.  "School's Out" – Soul Asylum
6.  "Medication" – Garbage
7.  "Haunting Me" – Stabbing Westward
8.  "Maybe Someday" – Flick
9.  "Resuscitation" – Sheryl Crow
10. "It's Over Now" – Neve
11.  "Changes" – Shawn Mullins
12.  "Stay Young" – Oasis
13.  "Another Brick in the Wall (Part 1)" – Class of '99
A Supergroup called Class of '99 was created to cover Pink Floyd's "Another Brick in the Wall (Part 2)" (as well as "Another Brick in the Wall (Part 1)") for the soundtrack.
The Class of '99 line-up was: Layne Staley (August 22, 1967 – c. April 5, 2002) of 'Alice in Chains' as the vocalist, Tom Morello of 'Rage Against the Machine' as lead guitarist, Stephen Perkins of 'Jane's Addiction' as the drummer, and Martyn LeNoble of 'Porno for Pyros' as bass guitarist. Contrary to rumors and popular belief, the four musicians collaborated solely to cover the songs for the film and did not create a band or intend on releasing other new material.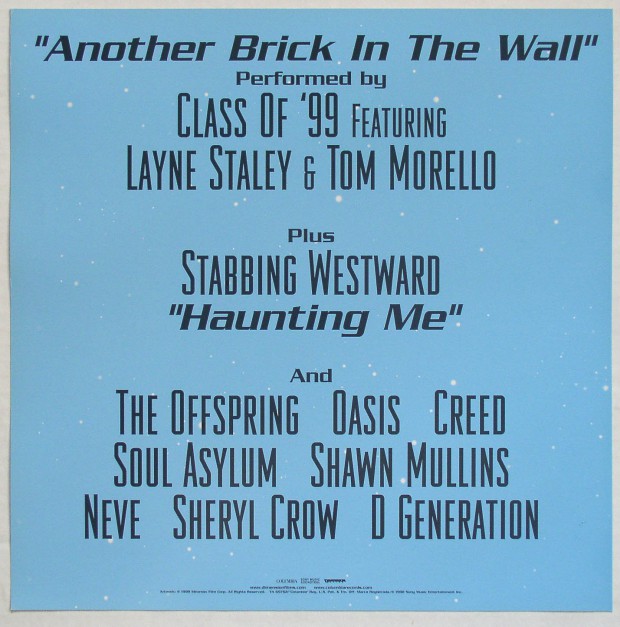 Trivia
Watch here the 1998 commercial for Tommy Hilfiger jeans and "The Faculty". The commercial features many of the young cast members of the movie, including Elijah Wood, Josh Hartnett and Usher. The 30 second spot aired in 1998 during an episode of South Park.
External Links and Articles
The Faculty was released 18 years ago (Bloody Disgusting)
Pictures
Photo Gallery: