The Cinema of Robert Rodriguez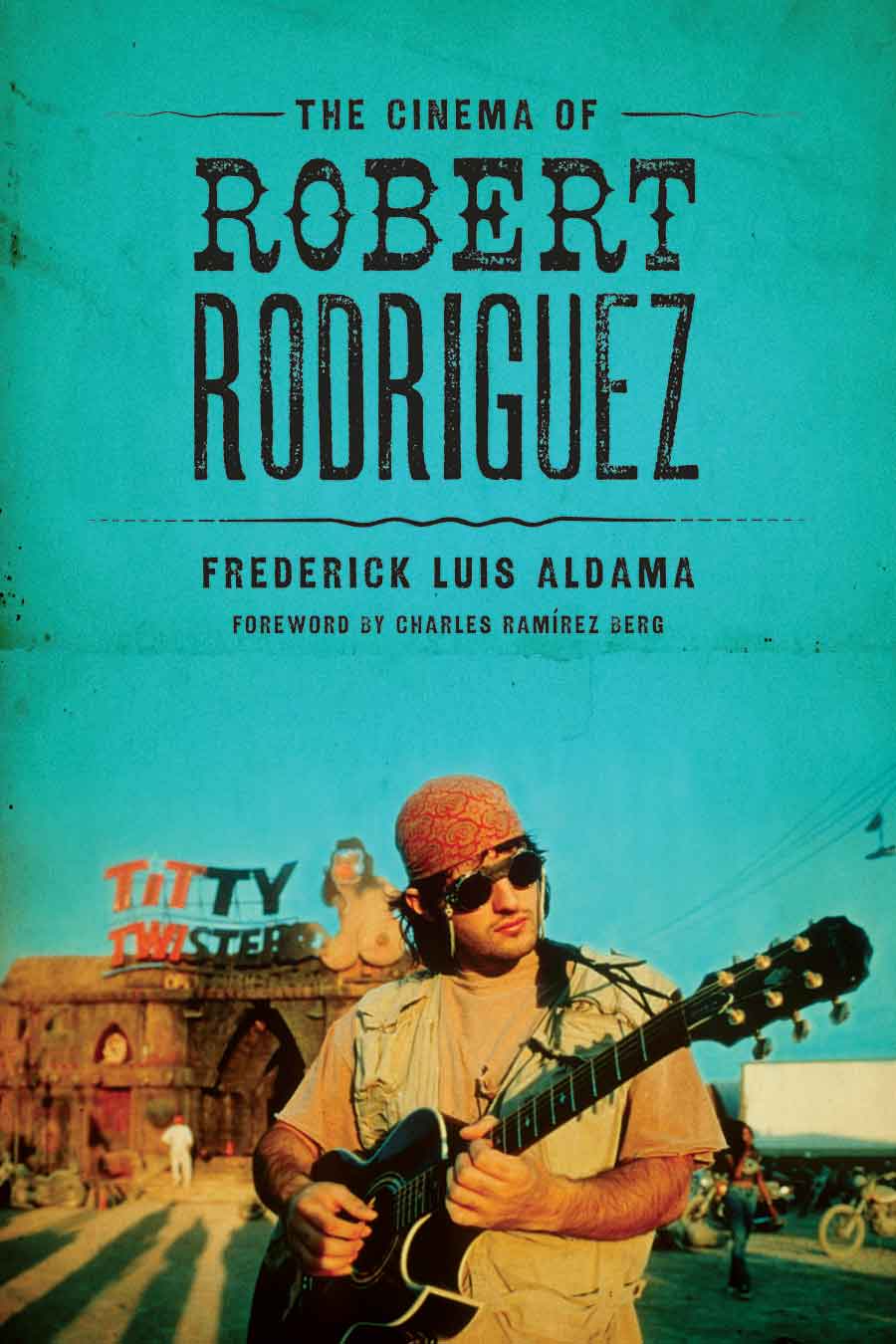 Bibliographic information:
Title: The Cinema of Robert Rodriguez
Author: Frederick Luis Aldama
Contributor: Charles Ramírez Berg
Edition illustrated
Publisher: University of Texas Press, 2014
Released: March 15, 2015
ISBN 029276121X, 9780292761216
Length: 188 pages
Subjects: Social Science › Ethnic Studies › Hispanic American Studies
BUY NOW: From Amazon.com | From Amazon.co.uk | From Amazon.ca
Review: With insightful analysis of films ranging from El Mariachi to Spy Kids 4 and Machete Kills, as well as a lively interview in which the filmmaker discusses his career, here is the first scholarly overview of the work of Robert Rodriguez, the most successful U.S. Latino filmmaker today.
---
Author: Frederick Luis Aldama is Arts and Humanities Distinguished Professor of English at the Ohio State University, where he founded and directs LASER/Latino and Latin American Space for Enrichment and Research.
Description: Robert Rodriguez stands alone as the most successful U.S. Latino filmmaker today, whose work has single-handedly brought U.S. Latino filmmaking into the mainstream of twenty-first-century global cinema. Rodriguez is a prolific (eighteen films in twenty-one years) and all-encompassing filmmaker who has scripted, directed, shot, edited, and scored nearly all his films since his first breakout success, El Mariachi, in 1992. With new films constantly coming out and the launch of his El Rey Network television channel, he receives unceasing coverage in the entertainment media, but systematic scholarly study of Rodriguez's films is only just beginning.
The Cinema of Robert Rodriguez offers the first extended investigation of this important filmmaker's art. Accessibly written for fans as well as scholars, it addresses all of Rodriguez's feature films through Spy Kids 4 and Machete Kills, and his filmmaking process from initial inspiration, to script, to film (with its myriad visual and auditory elements and choices), to final product, to (usually) critical and commercial success. In addition to his close analysis of Rodriguez's work, Frederick Luis Aldama presents an original interview with the filmmaker, in which they discuss his career and his relationship to the film industry. This entertaining and much-needed scholarly overview of Rodriguez's work shines new light on several key topics, including the filmmaker's creative, low-cost, efficient approach to filmmaking; the acceptance of Latino films and filmmakers in mainstream cinema; and the consumption and reception of film in the twenty-first century.
Content: 
Foreword: A Teaser before the Show by Charles Ramírez Berg
Acknowledgments
Art and Industry: The Films of Robert Rodriguez
Good, Bad, Ugly . . . and Beautiful
El Mariachi (1992)
Desperado (1995)
Once Upon a Time in Mexico (2003)
Regenerative Aesthetics of Degenerate Genres
From Dusk till Dawn (1996)
The Faculty (1998)
Familia Redefined, Chocolate Rivers, Rainbow Rocks, Dreamscapes, and S'mores
Spy Kids 1 (2001)
Spy Kids 2: The Island of Lost Dreams (2002)
Spy Kids 3-D: Game Over (2003)
Spy Kids 4: All the Time in the World (2011)
The Adventures of Sharkboy and Lavagirl in 3-D (2005)
Shorts (2009)
Tour de Noir Comic-Book Film
Sin City (2005)
Otherworldly Mutants, Bandidas, Borderland Vigilantes . . . Fight Back
Planet Terror (2007)
Machete (2010)
Machete Kills (2013)
It's a Wrap
Interview with Robert Rodriguez
Filmography
References
Index
Reviews:
"Rodriguez gained cinematic notoriety with the image of a guitar case that concealed not a musical instrument but a weapon. In similar fashion, Aldama's book contains many surprises and sharp-edged tools for thinking about the crossroads of film, politics, and identity. . . An explosive text!"
―Alex Rivera, director of Sleep Dealer
"Aldama provides an engaging and wide-ranging exploration of one of the most iconoclastic directors working in Hollywood—someone who has pushed the boundaries of how films get made, how they tell stories, and who gets to tell these stories both in front of and behind the camera. The most comprehensive book on Robert Rodriguez not written by the director himself!"
―Chon Noriega, Professor of Cinema and Media Studies at UCLA and author of Shot in America: Television, the State, and the Rise of Chicano Cinema3
"The Cinema of Robert Rodriguez is a foundational text on one of the most significant artists of this generation. Applying a diverse range of approaches—cognitive, film theoretical, philosophical, and cultural and media studies—Aldama examines Rodriguez's entire multi-genre corpus within its aesthetic, sociopolitical, and cultural contexts. This virtuoso analysis shows how Rodriguez's films create new aesthetic objects and fictional worlds that partake in and impact the social realities to which they refer. Aldama shows how these visual texts expand our perceptions and widen our affective landscape, making us open to new possible futures. This is a truly remarkable work that will fascinate fans, film lovers, and film scholars alike."
―Camilla Fojas, Vincent de Paul Professor of Latin American and Latino Studies at DePaul University and author of Border Bandits: Hollywood on the Southern Frontier