Alita: Battle Angel (2019)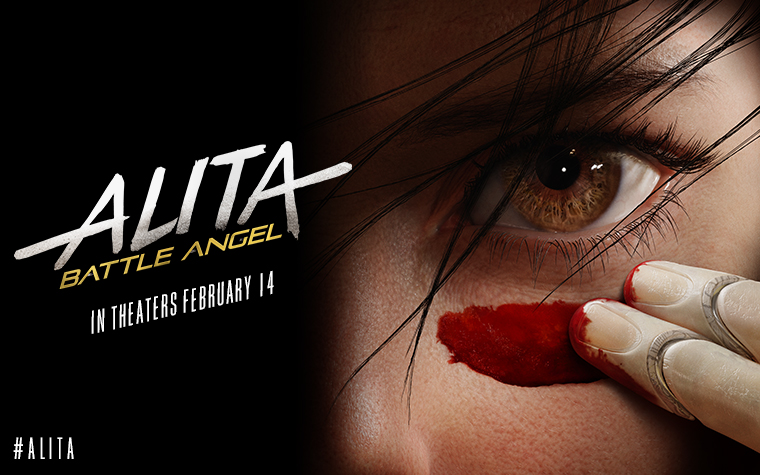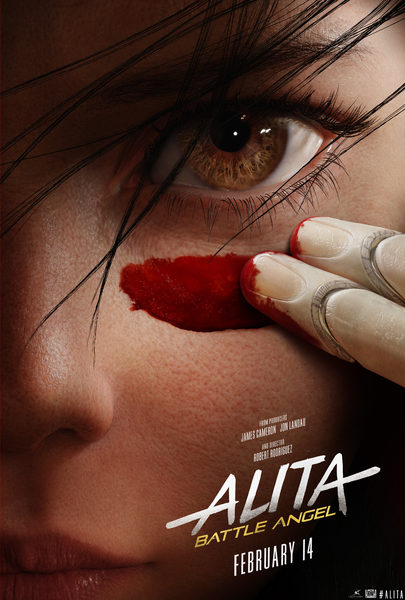 Alita: Battle Angel is a graphic novel adaptation directed by Robert Rodriguez and produced by James Cameron and Jon Landau (Avatar). The original novels were written by Yukito Kishiro. Laeta Kalogridis and James Cameron wrote the screenplay based on Kishiro's characters. The movie is at 20th Century Fox and was made at Troublemaker Studios.
Links: IMDb | Official Twitter channel
Release date: February 14, 2019
Cast: Rosa Salazar (Alita), Michelle Rodriguez (Guelda), Ed Skrein (Zapan), Christoph Waltz (Dr Dyson Ido), Eiza Gonzalez (Nyssiana), Jennifer Connelly (Chiren), Mahershala Ali (Vector), Casper van Dien
Crew: Robert Rodriguez (director); John Landau, James Cameron, David Valdes, David Womack (producers), Bill Pope (Cinematography),
Music: Junkie XL (Soundtrack: Amazon.com | Amazon.co.uk | Amazon.de | Amazon.ca | Amazon.fr)
Original Graphic Novels: Amazon.com | Amazon.de
Books: Official prequel novel "Iron City" | The Art and Making of the Movie | Official movie novelization | Dr. Ido's Journal
Trailer: First official trailer | Full trailer
We will update this page with more info as soon as available.
"From visionary filmmakers James Cameron (AVATAR) and Robert Rodriguez (SIN CITY), comes ALITA: BATTLE ANGEL, an epic adventure of hope and empowerment. When Alita (Rosa Salazar) awakens with no memory of who she is in a future world she does not recognize, she is taken in by Ido (Christoph Waltz), a compassionate doctor who realizes that somewhere in this abandoned cyborg shell is the heart and soul of a young woman with an extraordinary past. As Alita learns to navigate her new life and the treacherous streets of Iron City, Ido tries to shield her from her mysterious history while her street-smart new friend Hugo (Keean Johnson) offers instead to help trigger her memories. But it is only when the deadly and corrupt forces that run the city come after Alita that she discovers a clue to her past – she has unique fighting abilities that those in power will stop at nothing to control. If she can stay out of their grasp, she could be the key to saving her friends, her family and the world she's grown to love."
BluRay and DVD releases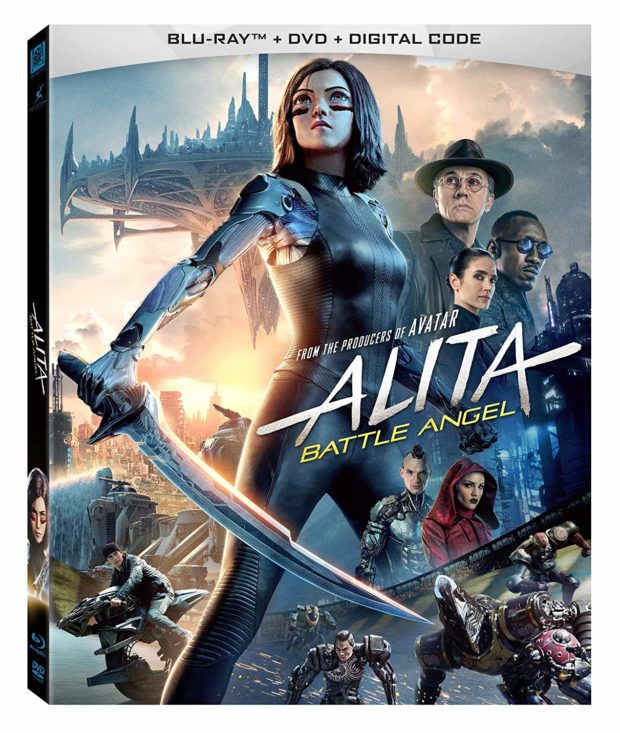 Alita: Battle Angel was released on home video in July 2019. Language options depending on market, at least English DTS-HD MA 7.1, some other tracks in Dolby Digital 2.0, 5.1 or others. Special features:
Alita's World aggregates some brief animated features that give background information on various aspects of the story and characters. The Fall (1080p; 5:05), Iron City (1080p; 3:19), What It Means to be a Cyborg (1080p; 2:28), Rules of the Game (1080p; 2:52)
From Manga to Screen (1080p; 20:47) is an interesting piece documenting the adaptive process.
Evolution of Alita (1080p; 19:43) is an overview of the character.
Motorball (1080p; 6:02) is a brief piece examining the violent game in the story.
London Screening Q & A (1080p; 26:38) features James Cameron, Robert Rodriguez, Rosa Salazar, Christoph Waltz and Jennifer Connelly.
10 Minute Cooking School: Chocolate (1080p; 5:28) is only five and a half minutes, but who's counting?
2005 Art Compilation (2019) (1080p; 14:20) is a kind of confusingly named piece that features paintings that tell a story of sorts courtesy of some narration.
Scene Deconstruction (1080p; 10:47) is an interesting piece that allows you to use the color buttons on your remote to toggle through various levels of rendering. I Don't Even Know My Name, Just an Insignificant Girl, I'm a Warrior, Aren't I?, Kansas Bar
Get the movie on DVD: From Amazon.com | From Amazon.de | From Amazon.co.uk | From Amazon.ca | From Amazon.fr | From Amazon.es | From Amazon.it
Get the movie on  BluRay: From Amazon.com  (+ DVD and digital code) | From Amazon.de | From Amazon.co.uk | From Amazon.ca | From Amazon.fr | From Amazon.es | From Amazon.it
Get the movie on 4K UltraHD BluRay: From Amazon.com includes 3D BluRay, BluRay and digital code | From Amazon.de | From Amazon.co.uk | From Amazon.ca | From Amazon.fr | From Amazon.es | From Amazon.it