Machete sequel greenlit: Machete Kills
Earlier this week it was reported that Robert Rodriguez managed to get a green light for a sequel to the grindhouse maverick feature Machete starring Danny Trejo. It should come as no surprise, since from the very beginning there was talk of turning it into a trilogy if it was successful. Upon release of Machete, they joked that there would be a Machete Kills, and a Machete Kills Again.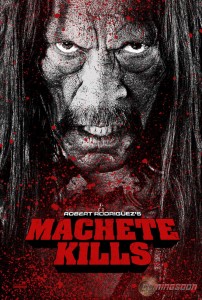 At the European Film Market during the Berlin International Film Festival, which opened Friday, they are now showing off this promotional poster (click to comingsoon.net for the hi-res version), to win backers for the film, which is produced by Alexander Rodnyansky's AR Films U.S., a partnership between AR Films and Aldamisa Entertainment. Deadline quotes Robert saying "The fan response to the Machete character has been fanatical since his first appearance. Machete is truly a super hero and Machete Kills will be bigger and more ambitious than the first time." If all goes right, and Trejo is on board, the movie is slated to start shooting this April as a Quick Draw Production, produced by Rodriguez himself, Rodnyansky (of said AR Films, the main investor), and Quick Draw's Aaron Kaufman and Iliana Nikolic, as well as Sergei Bespalov (of Aldamisa) and Rick Schwartz. Apparently a script continuing the legend of Machete is already on the table, written by Kyle Ward, and developed by Rodriguez and Marcel Rodriguez.
Deadline's report quotes the plot summary as follows: "The new film finds Machete recruited by the U.S. Government for a mission which would be impossible for any mortal man. Machete must battle his way through Mexico to take down a madman cartel leader and an eccentric billionaire arms dealer who has hatched a plan to spread war across the planet with a weapon in space. Machete takes on an army in an effort to dismantle a plan for global anarchy."
Sources: Coming Soon | Deadline Hollywood.