Predators star Alice Braga speaks to MTV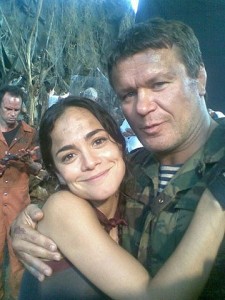 Predators co-star Alice Braga talked to MTV this week and they tried to get some information out of her about a rumored Arnold Schwarzenegger cameo, Adrien Brody's performance and Nimrod Antal's directing style. Here's a short excerpt, read the rest via the link below:
MTV News: Such a great cast. We're looking forward to seeing Adrien Brody in an action role, which people were a little skeptical about. What was he like on set in embodying that action hero?

Braga: He was amazing. When we arrived in Hawaii where we first started shooting the film, it was really interesting that he was willing to really get stronger because his body is naturally thin. All of us, we bonded together as a team. We were working out together. He really changed his body, which is great because he challenged himself to do something he hasn't been doing. I think he's done it for some films, but never as an action hero. I think he did a great job. I think people are going to be really impressed with his work. He's a phenomenal actor and really a great person. And a great friend.
Click for the full interview and video clip: MTV.com