First Predators footage to hit the world and net
It is the SXSW festival going on in Austin, Texas, and it is Robert Rodriguez and Nimrod Antal up on a stage with Greg Nicotero and a predator head, surrounded by red laser lights. Would you want to be there right now, and see a presentation on the movie along with some trailers and exclusive new footage? Hell yes you would. To quote Harry Knowles, who sais he's seen the footage:
This scene isn't a creature scene. It is a character reveal. I'm not going to reveal who it is, but this character has been living on this planet for a while. He is wearing various 'gear' that is of alien origin. When the fx are finished, the character will decloak in front of Adrian Brody. He'll remove his helmet and will simply reveal his badassness to them. He'll tell them that they smell wrong, that they're too loud. He'll tell them that "THEY" will find them fast. And I wish I'd seen it a couple of times so I could have a better grasp of the dialogue. But this character's dialogue will incite cheers. (source)
Harry also says the footage will hit the net shortly after, and he names possible addresses, but we really think it might be www.predators-movie.com, so stay tuned, we'll update this post.
UPDATE: We were right and the sneak footage, a synopsis and some pictures are now up at www.predators-movie.com, and a trailer will follow next week, click the image below: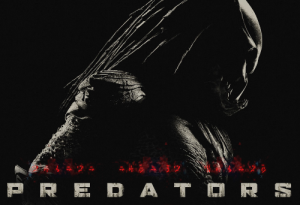 Update 2: There's also a teaser, check the two links at Shock till you drop. One and Two.